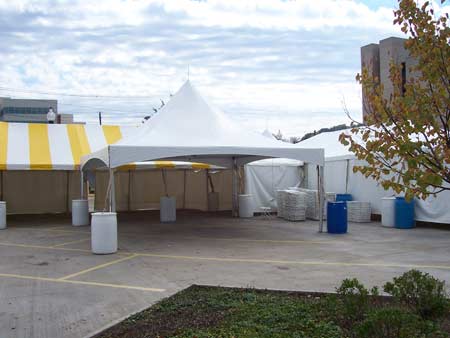 Frame tents are your solution to eliminating poles throughout the interior of your tent! These structured tent options are great for higher-traffic areas and can support a wide range of wedding rentals, such as dance floors, stages and more. McGuffey Tents, Inc. is here to help you find the right frame tent for your next event.
We frequently rent frame tents to customers with a wide range of event needs—from block parties to corporate events, weddings to birthday parties and beyond. These tents are great for virtually any location, staking a problem? Frame tents are able to be balisted with either barrels or concrete weights.
Why choose a frame tent?
Many people choose a frame tent rental simply because it lacks a center pole or other interior obstructions. But, there are so many more reasons to choose a frame tent! Flexible layout options and floor planning are possible thanks to the unimpeded interior of the tent, which is great for managing your available space. Plus, frame tents are more aesthetically pleasing and can support traffic better. They take a bit longer to set up, but the wait is well worth it!
Frame tent size options
We carry an assortment of frame tent options, to ensure our customers are getting the style and size tent they need for their event. Out options include:
High Peak Frame — 10×10, 15×15, 20×20
20 ft wide — 20×20, 20×30, 20×40, 20×50, 20×60, 20×70, 20×80, 20×90, 20×100, 20×110, 20×120, 20×130, 20×140, 20×160
30 ft wide — 30×30, 30×40, 30×45, 30×50, 30×60, 30×70, 30×80
40 ft wide — 40×40, 40×60, 40×80
If you're not quite sure how large of a tent you'll need or what type of frame will best suit your location, talk to one of our trained professionals today. We'll be happy to give you advice and point you in the right direction for a quality rental. Give us a call today at 304-375-7625.