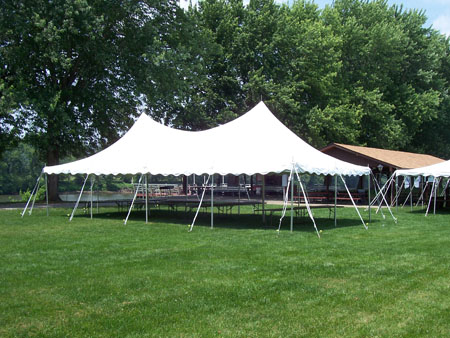 Tension tents are a great shelter solution for open spaces and can accommodate large groups of people with ease. Because of their high peaks and elegant lines, tension tents are ideal for weddings, receptions and other outdoor events. At McGuffey Tents, Inc., tension tents are among our most popular tent rentals for formal occasions!
Not sure if a tension tent is right for you? Speak with one of our experts to determine if this style of ten is right for your space and event. We can advise you as to whether or not a tension tent is applicable, how many tents you may need or what alternatives may be better. We're fully dedicated to ensuring you get the proper party tent rentals!
Why choose a tension tent?
Tension tents are optimal for formal events, simply because of their grandeur! High peaks, luxurious appeal and a crisp, clean aesthetic make these tents perfect for weddings and other sophisticated occasions. They're also optimal for grass staking and benefit from being located in larger, more open spaces.
Tension tent sizes
Our tension tents come in two chief sizes, to best accommodate your available space and number of guests:
20 ft Wide tents — 20×20, 20×30, 20×40
30 ft Wide tents — 30×30, 30×45, 30×60
40 ft Wide tents — 40×40, 40×60, 40×80, 40×100, 40×120, 40×140, 40×160
60 ft Wide tents — 60×60, 60×80, 60×100, 60×120
No matter how many people are coming to your event, we'll help you get the tension tent rental(s) appropriate for you. We even have a CAD system to show you how the seating will look and to help you arrange the tent for a perfect event!
For more information about the right tent size for you or to inquire about our tension tent rental terms and rates, please contact us today by calling 304-375-7625. We're happy to work with you to determine exactly what you need to make your event a success.