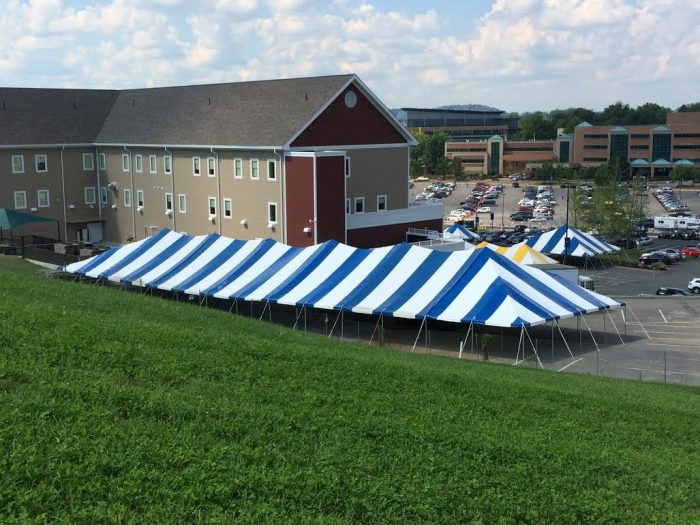 When people need affordable party tent rentals, they choose McGuffey Tents, Inc. We specialize in renting a wide variety of tent sizes and options to customers—pole tents among them. Our pole tents are great for a wide range of events, including both private and commercial occasions!
Whether you're hosting a parking lot event at your local small business or you're getting the family together for a reunion in your backyard, a pole tent could be the centerpiece to a successful event. We offer pole tent rental in West Virginia and Mid-Eastern Ohio for sales events, seasonal events, tailgate parties, family reunions, graduations, birthdays and more!
Why choose a pole tent?
Aside from their versatility, pole tents are also tremendously economical. If you're planning a party on a budget and need to stretch your dollars to meet their fullest value, a pole tent is the best option for you. They're also very easy to transport, set up and install—great for quicker preparation. Finally, you won't find a better range of size options! Pole tents are available in a vast number of sizes to accommodate groups of any size.
Pole tent size options
Whether your event has 50 people or 500 attendees, there's a pole tent in stock that's right for you! Take a look at the many options we have for sizing:
10 ft. wide tents – 10×10
12 ft. wide tents – 12×12
20 ft. wide tents – 20×20, 20×30, 20×40
30 ft. wide tents – 30×30, 30×40, 30×60, 30×90, 30×120
40 ft. wide tents – 40×40, 40×60, 40×80, 40×100, 40×120, 40×140,
40×160, 40×200
60 ft. wide tents – 60×60, 60×80, 60×100, 60×120, 60×140, 60×160, 60×180
100 ft. wide tents – 100×100, 100×120
If you need help determining the proper pole tent rental for your event, get in touch with us right away. Our experts will help you figure out which size is ideal for your attendees and your budget. Give us a call today at 304-375-7625 to get started.